Our fleet of curtain lorries with tail-lifts are suitable for most general haulage small consignments. However, we have an extensive range of other vehicles for larger general haulage requirements.
FLEET RANGE
7.5-tonne rigid lorries (with tail-lift)
18-tonne rigid lorries (with tail-lift)
26-tonne rigid lorries (with tail-lift)
44-tonne rigid lorries (with tail-lift)
Single and double deck trailers
First, we regularly inspect and maintain each vehicle to ensure our high standards of safety and quality are met. Next, our general haulage fleet is managed by transport industry experts. Plus, our competitive quotes reflect our commitment to value. Lastly, the tracking system ensures each vehicle is monitored at all times and you are efficiently updated on its progress.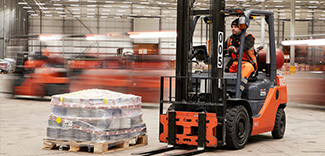 VEHICLE CAPACITIES
Guidance figures on how many 1.2m x 1.2m pallets can fit in each vehicle:
| VEHICLE CAPACITY (TONNES) | NO. OF PALLETS |
| --- | --- |
| 7.5 | 8 |
| 18 | 14 |
| 26 | 18 |
| Trailer (Single Deck) | 26 |
| Trailer (Double Deck) | 48 |
When possible, quantities can be increased by double-stacking. Exclusive hire
options are also available.
FAQs
Am I insured?
In the UK, 'The Road Haulage Association Conditions of Carriage' usually applies. This guidance sets out the general haulage contract including insurance liability. We can provide this to you upon request. We advise all customers to seek professional independent advice on insurance for general haulage.
Basic cover is set at a maximum of £1.30 per kilogram of lost or damaged freight up 'to £1,300 per tonne based on cost value (not sales value). Depending on the consignment, uplifted pallet network insurance or RHA insurance may apply, bringing the coverage to £5000 per 1000kgs. Lastly, additional cover can be purchased for up to £20,000. Your coverage level will be confirmed on a bespoke basis upon placing your order.
Do I use the Pallet Service or General Haulage?
Small consignments of 1-5 pallets are best delivered via our partner network, Palletforce -often the next day. Larger consignments will be evaluated individually, based on delivery date and location.
You can also consider groupage consignments where pallets from several customers are grouped for the same destination.
Can I store goods?
We can offer goods storage in our warehouse near the M1, prior to final shipment.
I think my goods may be classed as Dangerous Goods, what should I do?
Please reach out and provide us with your health and safety data sheets and PAC code so we can categorise your goods.
Do you operate kerbside delivery?
All orders arrive on a pallet and are delivered to the nearest flat, hard and accessible location at your property. We cannot deliver onto gravel due to pallet weight and poor manoeuvrability. We cannot deliver goods indoors or through gates. We recommend you bring someone to assist you to transport items indoors. Pallets become the recipient's responsibility once they are delivered and signed for.
How should I prepare my goods for collection?
Goods need to be on a pallet, secured and wrapped. If you need help with these supplies or preparation, we're happy to provide this for a small additional £15 fee.